10 easy Halloween marketing ideas for cafes & restaurants
Witch ones will you choose?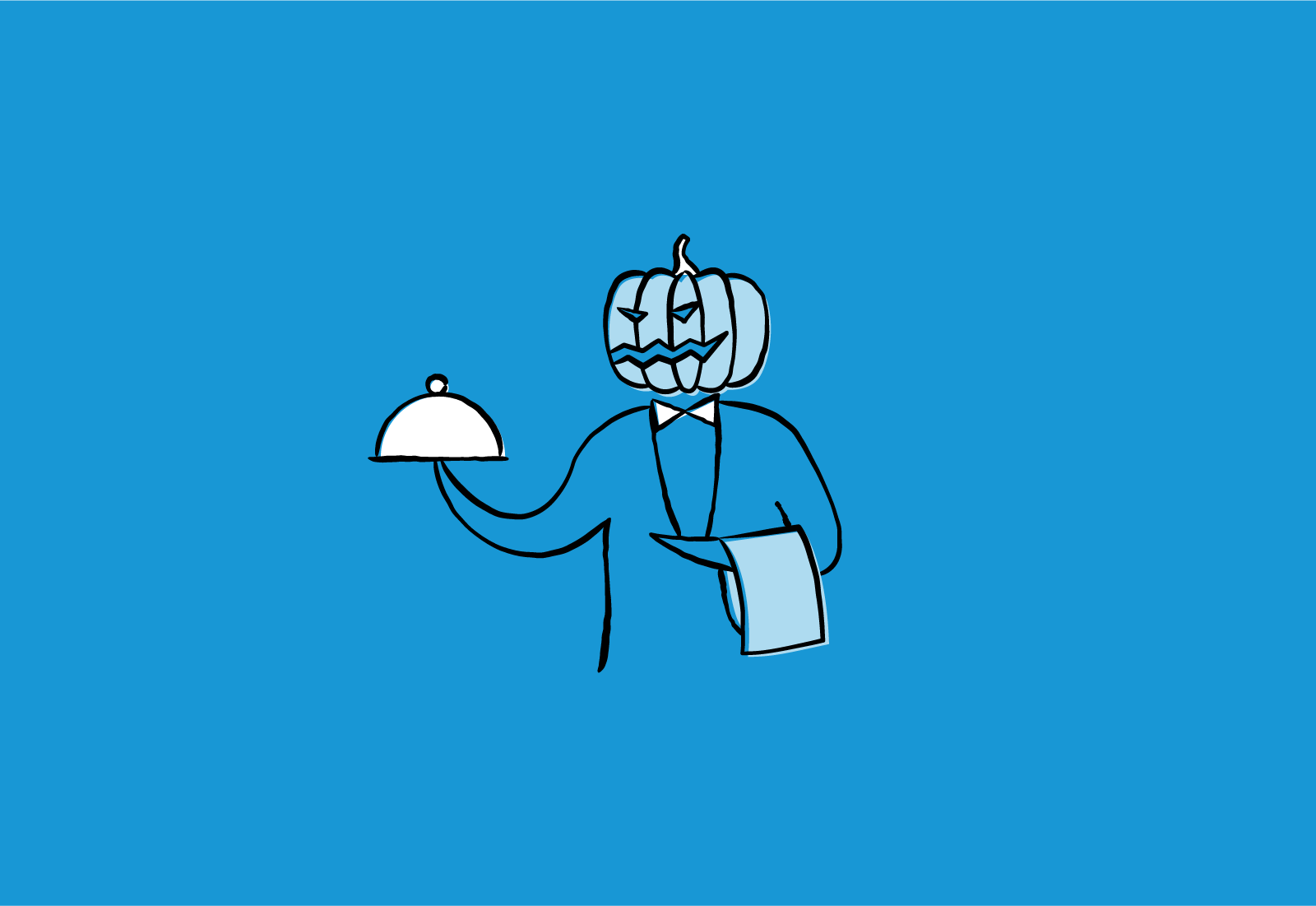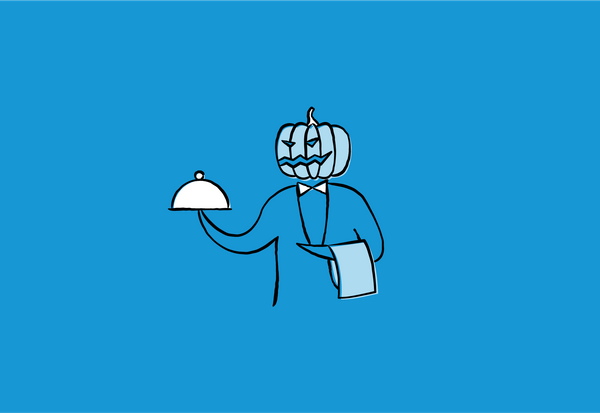 More than just an excuse to wear a cape outside without being laughed at, Halloween can be enormously profitable for retail and hospitality businesses.
In fact, consumer analysts Mintel report that Britons spend roughly £400 million on Halloween-related goods and activities each year, and its popularity is only increasing.
But how can cafe or restaurant owners take advantage of this spooktastic season and send a bolt of lightning to their finances?
Today on the RotaCloud Small Business Success Blog, we're outlining 10 fun and creative ways for those in the cafe and restaurant biz to capitalise on Halloween.
Ready to scare up some serious sales? Let's go!
---
1. Dazzle with decor
Giving your cafe or restaurant's interior a Halloween-themed makeover is a quick and easy way to put smiles on faces and get patrons into the spirit of the season.
The amount of effort you put into your decor will of course depend on your premises' current look and practicalities around space. But there are a number of ways you can inject a little spooky — or perhaps just seasonal — fun:
Scatter some witchy regalia around your premises —  a couple of old-fashioned brooms in the corner, a witch's hat on the wall, perhaps some spooky 'spell books' on the shelves.
Create a 'bubbling cauldron' by putting some dry ice in a rustic-looking pot.
Buy a few chunky candles (or candles with candlesticks) for your counter. LED candles might be a wise choice!
Strategically position some fake cobwebs (most big supermarkets and toy shops will stock these in September and October) in the corners of the room.
Play some spooky music or sound effects at a low volume.
Make some black spider webs using bin bags and attach them to the wall.
Place a jack-o-lantern (lit with a torch or fake candle) on your counter or beside the till, ideally alongside a 'treat' jar for guests to help themselves to. (Be sure to use only individually-wrapped treats for the sake of hygiene and safety.)
Line up some 'potions' (jars filled with tap water and a few drops of food colouring — finished off with a few clever labels) behind the counter.
If you're on a tight budget, simply throw up a few orange and black balloons or crepe paper streamers — the colour combination works well and is suitably autumnal without being overly garish.
2. Add Halloween specials to your menu
No self-respecting cafe or restaurant owner should celebrate Halloween without serving up some seasonal dishes  — Halloween was originally a harvest festival, after all!
Drinks and sweets lend themselves especially well to Halloween-ification, and your younger guests will get a huge kick out of things like 'spider's web' cakes and 'zombie fingers', so let your creativity run wild and work on some dishes that will inspire patrons to whip out their phones and share pics online.
If you'd rather keep things simple, then consider adding some autumnal specials to your menu. They needn't be grotesque or scary — simply use seasonal vegetables (preferably locally sourced) to create something new and enticing. Be sure to stress to your guests that these dishes won't be around for long — scarcity is known to be a key motivator when people are making choices and purchases.
If time's against you, why not consider ways to tweak some of your existing menu items to give them a fun or spooky twist?
Add a dash of pumpkin spice to your lattes; use food colouring or an icing pen to turn your marshmallows into cute little ghosts; add orange food colouring or squid ink to bring some seasonal shades to your standard menu. With a few visual additions and flavour adjustments, existing dishes can be given a new lease of life.
3. Play some games
Invite your patrons to take part in a quick Halloween-themed game or two during their visit. You'll need to keep them quick and easy (your staff will be busy, after all!), but they should be enough to get people smiling.
A few quick ideas:
Guess the eyeballs
Fill up a jar with ping-pong ball "eyeballs" and top it up with some kind of murky liquid. As they make purchases or pay their bill, ask your customers if they'd like to guess the number of eyeballs inside in order to win a prize or voucher. Have them write their guess on a card along with their name and email address to enter. (Be sure to give them an 'opt-out' option so that everything stays GDPR-friendly.)
Play 'trick or treat'
Put a handful of ping-pong balls, labelled either 'trick' or 'treat' (you decide the ratio), into a box or bag. When it's time for the customer to pay their bill, invite them to draw a ball, rewarding those who draw a 'treat' with something nice (a coupon for a free muffin or coffee, perhaps). Whether you decide to 'punish' those who draw a 'trick' ball is entirely up to you!
'ESP'
Remember that opening scene in the original Ghostbusters where Bill Murray tests his subjects' psychic abilities by asking them to to predict the cards he's holding? Why not challenge your guests in a similar way (minus the electric shocks!)?
Line up four cards — one square, one circle, one triangle, and one star — face down on the counter and ask the bill-payer to predict which symbol will be printed on them, giving them a discount of 10% for every card they correctly guess in a row.
Your customer can stop at any time they like, but if they decide to keep going and guess their next card incorrectly, they'll lose the lot.
Hold a raffle
Invite your guests to make a small contribution to a charity of your choice in return for a chance to buy a raffle ticket to win a cool prize. Tell them that you'll announce the winner(s) via your social media channels to encourage them to follow you.
Be sure to announce any promotions well in advance both in-store and via your social media channels to increase footfall as much as possible.
4. Carve a crowd-pleasing pumpkin
You can't celebrate Halloween without a proper pumpkin (or a turnip if you want to go old-school). But instead of making a bog-standard jack-o-lantern, take some time to design something really eye-catching for your front window to draw people in.
Need some inspiration? Check out this little lot:
A Nightmare Before Christmas
This fantastic fox
Getting creative with colour!
Your jack-o-lantern should ideally be so creative and original that people stop by just to take photos. Even if they don't always come in for something to eat or drink, they'll likely share their snaps online for their friends and relatives to see, meaning that you'll be much more on their radar than before.
Never made a jack-o-lantern before? Check out these handy tips for carving.
5. Give tarot readings for charity
Buy or print a set of tarot cards and set up a corner of your cafe or restaurant (or perhaps set up a table in your reception area) and offer to give readings in exchange for crossing your palm with silver (read: dropping a few coins into a pot for a local charity).
You might need to do a little bit of homework beforehand, but people will get a buzz out of having their future told, safe in the knowledge that their 'tarot reader' is actually just their friendly neighbourhood barista or restaurant owner wearing eyeliner and a woollen shawl...
6. Kids in costume eat free
'Kids eat free' is a common tactic in the restaurant industry. After all, hungry children usually means at least one hungry parent.
Put a twist on this tactic at Halloween by inviting parents to bring their costume-wearing kids to dine with you on certain days (or between certain times if you have a lull or a rush hour).
You could even take photos of the best costumes (with parents' permission, of course) that come through your door and share them online — those proud parents are bound to give you a few likes and retweets!
If you do decide to run an event of this kind, be sure to advertise it well in advance via your social media channels and with flyers in-store.
7. Partner with local businesses
Organise a trick-or-treat event with other local businesses, either by preparing a stamp card for kids and parents to fill up as they go around all the shops, or putting eye-catching 'Trick or Treat Stop' posters in your windows so people know you're taking part.
When your trick-or-treaters visit, reward them with some of your best baked or sweet treats — ideally sample-sized versions of your existing offerings.
Be sure to ply the kids' parents with plenty of these, too — the goal here is not just to put smiles on faces, but to showcase your goods and have people coming back for more in the future!
8. Give out zombie coupons
Sometimes they come back — especially if they have a coupon for a free coffee or delectable dessert!
Take advantage of the buzz your Halloween promotions have generated and turn those one-off or first-time visitors into regular customers by giving them a reason to return once the decorations have come down.
As popular as they are, discount coupons that many business make available online often have the effect of devaluing their products or services in the customer's eyes.
By rewarding patrons with a free 'gift', however, the customer is more likely to interpret this as a genuine display of gratitude for their patronage — especially if handed over by a sincere-sounding member of staff.
9. Dress to impress
Staff dressing up for Halloween is nothing new, but rather than dressing as different kinds of ghouls and ghosts, sit down with your team to decide on a particular theme for this year's celebrations.
If you have the time and budget, you could even consider getting a professional in to help, touching your team up with makeup and helping them really look the part.
You'll obviously want to be able to do your respective jobs without your outfits getting in the way, but a cleverly put-together ensemble will give your guests reason to smile — and provide you with a fantastic photo opportunity for your social media channels such as Instagram.
10. Go anti-Halloween
Let's face it: as fun as it is, not everyone loves Halloween. If you're one of those people, or you feel like all the businesses in your area have got the Halloween vibe sewn up, why not embrace that fact by holding an event or designating your cafe or restaurant a distinctly Halloween-free zone?
Sure, you might risk being the only place in town not getting into the spirit, but for all those people who are sick of the sight of pumpkins and witches' hats, you'll have the market cornered!
---